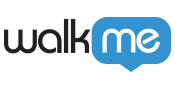 WalkMe Mobile increases in-app engagement and revenues - automatically. WalkMe's technology learns and understands user usage behavior, identifies the users "happy moments" and acts upon them in real time.
WalkMe iOS SDK

A Simple SDK that allows anyone to create and manage in-app content without coding and without deployment, to maximize in-app user engagement.
How it works
Install the WalkMe Mobile SDK, no work and setup required.
WalkMe's technology understands your users and targets them at the right time and place.
Create in app content including interactive Walk-Thrus, ShoutOuts, Launchers and Web Resources.
Launch and analyze in-app content in seconds, no need for app store approval.
Installation

With CocoaPods, add to your Podfile

Open your project directory in terminal and run

In order to update with the lastest Abbi SDK, run
Support
License

Commercial Software